10 Tips for Writing an Assignment
Assignment Writing Tips & Hacks
Progressing through academic life, full of demanding homework assignments, each student learns a bit of everything, yet novice learners find it challenging to cope without little writing tips and tricks. Sometimes it helps starting with finding of credible sources before writing or coming up with several thesis statements to choose from. One thing is for certain, if homework task seems unbearable, looking through a diverse assignment help from writers may just be an answer that helps to begin composing or pull through yet another writer's block. As most British university professors would agree, it takes not only knowledge and good writing skills, but a little bit of creativity and knowing how basic learning process is organized.  
10 Tips for Writing an Assignment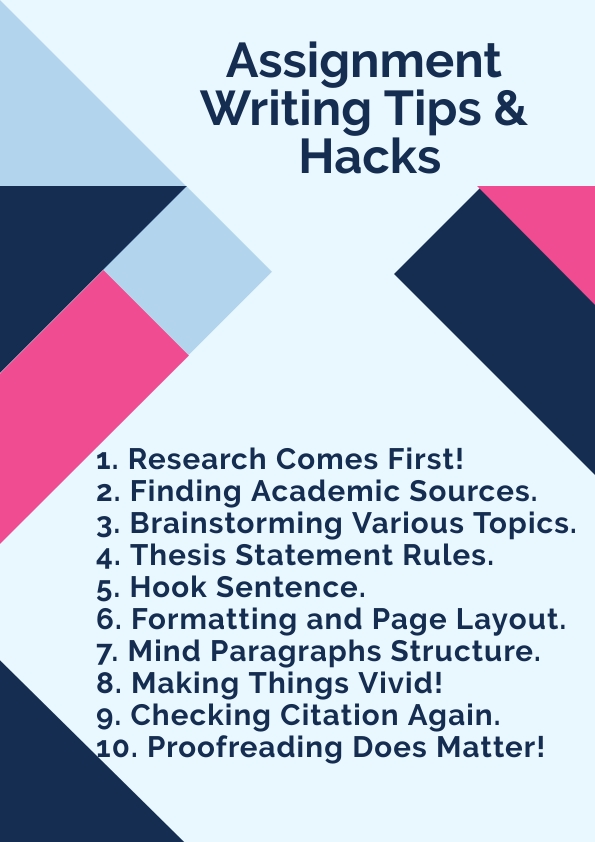 Research Comes First!

Regardless of topic chosen, it is crucial to begin with preliminary research that helps evaluate if there is enough information available to start with a particular idea. See what other researchers tell on subject, seek out opposite opinions, so your own vision can be formed, especially if the task is among the lines of an argumentative essay. 
Finding Academic Sources.

Even with great ideas at hand, remember that they must be supported with credible references to avoid possible plagiarism risks. Due to technological advancement, many sources are web-based, which is time-consuming, especially when looking for relevant information to fill in the required citation fields. Depending on

writing assignments

format, multimedia sources have to be listed separately from their print counterparts. 
Brainstorming Various Topics.

Once done with research and sources part, it is high time to choose among several topics that sound best and narrow things down, so student does not have diverse ideas scattered all over the paper. Take time to analyze possible arguments that relate to the thesis and topic.
Thesis Statement Rules.

This is the heart of any academic assignment help, therefore, give it some thought. Depending on a subject or essay type, thesis must speak clearly of an author's opinion or stay unbiased to inform an audience about process or event. It should provide a summary of all elements that will be discussed later in the paper, so keep it condensed. 
Hook Sentence.

This part is of no lesser importance as it should inspire readers to proceed with reading by keeping them interested. Hook is usually the first sentence of an introduction that tells a story, makes a claim or provides an unusual fact. Think about what could interest you if someone else would conduct similar research.  
Formatting and Page Layout.

It might surprise some students, but according to British psychology professors, formatting rules with layout requirements are usually checked in the middle of a writing process, which is perfectly fine. Since a student has basic outline of work, which must be followed, they focus on how to fit in within particular format requirements. 
Mind Paragraphs Structure.

Remember that each paragraph should start with a topic sentence that introduces the main arguments in order of importance and tells why an idea is important. Use logical transitions, accurate references, and analysis with a personal opinion part. If a counter argument paragraph is required, include a list of reasons why people have different views. Provide practical examples with comparison, if possible.

Making Things Vivid!

If an assignment allows, use graphics, diagrams, visuals, and statistics to make written content stronger. An Engineering student may use laboratory references with graphics when providing scientific proof of an experiment or

conclude

with assumptions in a more interactive way, offering additional visual support credibility.
Checking Citation Again.

Before doing final edits, check both in-text references and Bibliography entries. Make sure that every reference is there with page numbers. When checking references, mind the indents and italics as specified paper

format

tells.

Proofreading Does Matter!

Any list of

tips on assignment writing

would be incomplete without reminding of the importance of proper proofreading. While most British students think that it is only grammar and spelling, professors usually ask far more than classic Oxford style excellence. Proofread your essay for logic, paragraph structure, wordiness, relevance, and clarity. It'll help to read your assignment aloud for adding more confidence regarding how well the ideas sound. 
No matter what stage you are stuck at, stay calm and analyze your troubles from a different point. If there is an essay requiring specific plan that should be followed, start with a layout, formatting, and the word count first, then narrow down a fitting topic. Alternatively, begin with creation of an essay structure, so details can be filled in later. Take one step at a time, following our tips… and you will definitely get there! 
---