Ideal Assignment Structure For Students
Correct assignment structure is a way to show your teacher that you understand the assignment. Follow these simple steps to create a perfect structure and receive a high grade for an essay.
Ace Your Assignment Structure With Our Tips
When submitting homework assignments, most British students wonder why certain papers are successful, while others have grades deducted for minor omissions. Some believe that it happens when there is not enough space to explore amazing ideas, the other half blames unclear instructions. In reality, both problems can be eliminated by addressing assignment structure rules. Even if weak content is properly structured, there are far more chances for getting good grades when thoughts are presented clearly. 
Since there are many essay types like argumentative, expository, cause-and-effect or reflective writing, correct paper structure becomes a crucial point for an accurate completion of specific essay requirements.
Tips on How to Structure an Assignment
Assuming that there is already a good topic chosen, one can proceed with evaluation of basic structure rules. While each case will differ due to how argumentation should be presented, there are little tricks that will help overcome writer's block and lots of confusion that usually arrive along with each homework task. 
Page Layout and Formatting –

most important stage is learning all there is about page structure, fonts, indents, and formatting peculiarities, which may not only specify font size and indents, but also tell which paragraphs are obligatory or what wordcount is recommended. Likewise, remember to check running head line with headers. It should not exceed 50 characters limit. 
Title Page –

includes assignment title, followed by full name of a student and professor, course, university, and the date. In dissertation papers, it may be necessary to list academic acknowledgements. All entries must be centered, unless you work with MLA format. In such case, student's name is followed by professor's name, course, and date, all aligned left at the top of the page. 
Introduction Paragraph –

it starts with a hook sentence that aims to attract audience's attention with an interesting fact, assumption, unusual idea or a strong argument. After a brief topic introduction, it proceeds with a main claim.  
Thesis Statement –

this is usually the most important aspect to consider when thinking over

how to structure a university assignment

. Representing strongest idea of a paper, it is a sentence, which may be an argument, a lesson learned or a purpose that a writer has in mind when conducting research or working over certain tasks. 
Main Body –

in a case with classic 5 paragraph structure, which stands for Introduction, Three body paragraphs, and Conclusion, most UK universities recommend including arguments by order of significance. If there is a necessity of a counter-argument content, it is usually included in a last paper paragraph. Remember to support each idea with credible sources, followed by personal analysis or explanation why it is relevant. 
Conclusion –

knowing how to

conclude

an assignment is akin to choosing a strong thesis because it is what attracts the attention of most professors as they check homework. This part should wrap up main arguments in different words with a call to action or reference to additional research, if it is necessary. However, no new information should be introduced here. 
References Page –

the last page that contains assignment bibliography entries. Check formatting rules for correct indents and citation elements that should be placed in parenthesis or italics. Once the paper is ready, it is necessary to examine in-text citations to ensure that there is a healthy balance of quotes and personal thoughts. Such approach helps to avoid plagiarism. 
Proofreading – even though this part of assignment structure formation is often neglected, paper's editing proves to be one of the most important factors that lead to success. In other words, knowing assignment structure well is insufficient since even the brightest students can miss something. It is also a reason why a lot of UK students turn to professional assignment help which

 goes beyond grammar or spelling check. In order to ensure excellent paper structure, proofreading must include logic, coherence, wordiness, relevance, clarity, citations, and paragraphs order check among other tasks.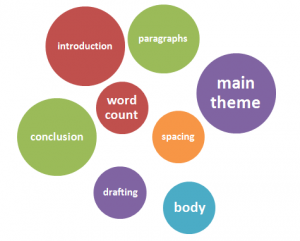 Regardless if there are writing templates offered by university course, they are usually static and hardly represent universal assignment writing structure that would fit every case. Therefore, students should always start with definition and an outline plan for each task, so paper is structured with due consideration at each stage. Once classic academic writing rules are mastered, it helps to approach any challenging assignment with confidence, allowing students to focus on sources, topic ideas, and actual writing work. 
---